Library of Articles
Featured Articles

Periodic Table of Chemical Elements:
Multiple HTML tables include information about each of the chemical elements, including their historical names, dates of discovery, and electronegativities.
The arrangement of elements is similar to conventional tables, but rotated counterclockwise, as illustrated at right. Syncopated also suggests a new position for hydrogen that is more consistent with rules regarding its electronegativity. The tables allow scalable viewing of elements in these combinations of orbital blocks:

An Introduction to Printed Circuit Boards:
Nomenclature and historical development of printed circuit technology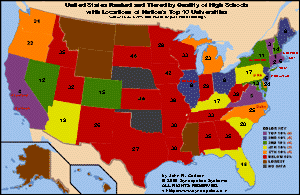 Educational Rankings of the United States:
A map of the Unites States, ranked and color-coded based on the quality of their high schools, according to U.S. News and World Report.
AT&T Monopoly Bumper Sticker:
Want to show your frustration with the American Telephone and Telegraph (AT&T) monopoly? Print and display this message.

Newest
Most Popular
By Category
Business/Economics
Communication
Engineering
Media Technology
Mathematics
Public Policy
Elsewhere